Update
National Emergency Medal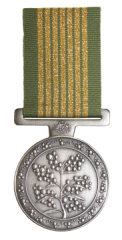 Fred Storey VK3JM, John Brown VK3FR, and Mark Dods VK3ZR have been awarded the National Emergency Medal for their service with WICEN during the Black Saturday fires
Criteria: Unpaid service of 7 days, with at least one day in the period Feb 7 – Feb 14 2009.
Also awarded to Peter Weeks VK3YZP for service in multiple capacities.
Peter was also awarded an OAM for his long term (mainly SES) emergency service.
Hayden McManus VK3FRST would also be eligible for his combined WICEN/Scouts service, but records of the Scouts service are not available
Presented to Fred Storey and Mark Dods by the Murrindindi Shire Mayor at a ceremony in Yea on September 15th 2013
On April 9th 2009, WICEN (Vic.) Inc. was activated as part of the State of Victoria's Emergency Response Plan (ERPlan) to assist with the Black Saturday Bushfires. Our initial task was to provide a link between the Alexandra Municipal Emergency Coordination Centre (MECC) – and the Municipal offices in Kinglake. Kinglake being one of the towns largely destroyed by the fires.
By the time the Kinglake station closed, WICEN had been asked to provide operators for the radios in the Alexandra Incident Control Centre (ICC). The ICC radio equipment was provided by the firefighting agencies – the Department of Sustainability and Environment (DSE) and the Country Fire Authority (CFA).
When permission was obtained to travel down the Maroondah Hwy from Alexandra to Mt Gordon West of Marysville, two WICEN members visited Mt Gordon to install a 2m store and forward voice repeater, and make temporary repairs to the permanent 6m repeater. Flowerdale was also visited by A WICEN operator based in
Alexandra who assisted with the restoration of broadcast services to the town.
Until phone services to Narbethong were restored, WICEN was asked to provide links between Narbethong and the Alexandra MECC. 80m and the Mt Gordon 2m and 6m repeaters were utilised for these links. Two operators were deployed to Narbethong for three days to fulfil this role.
Because of the long travel times between Alexandra and the Eastern side of the Kilmore East, Murrindindi Complex North fire it was decided to base a team of firefighters at McAdams Hill near Matlock. As there was some uncertainty about the coverage and capacity of the State Mobile Radio (SMR) system used by the firefighters, and the Cellular Phone system, it was decided to deploy WICEN to McAdams Hill as well to provide backup links to Alexandra on 70cm using a repeater South of Lake Eildon, and 80m.
A request from the CFA lead to WICEN providing operators for the ICCs at Kangaroo Ground, Woori Yallock and Belgrave. Unlike Alexandra, shifts at these ICCs were twelve hours long. The number of operators per shift varied according to the expected fire activity, but was generally two operators for the day shift and one for the night.
WICEN was requested to provide an operator for the Wesburn Airbase. This role was to perform "Flight Following" in which the position of all the aircraft being operated out of the airbase is monitored by radio. One operator was provided each day for this task until the airbase closed.
When a firefighter "taskforce" was assembled and deployed to Kinglake West on a high fire danger day, WICEN operators went with it to operate radios for the task force commander. This was a single day deployment for two operators who handled communications regarding 37 individual fires in the course of the day.
Once WICEN was activated, a WICEN net has held on 3.6 MHz each day at 1000 and 2130 hours. This net served several purposes:
– WICEN members and the wider Amateur community were kept informed of the state of WICEN's activation
– Operators on deployment could utilise the net to keep WICEN Admin informed of their situation
– Operators returning from deployment were able to brief those about to be deployed
– WICEN Admin was able to publicise shifts needing to be filled and call for volunteers
– Amateurs in fire prone areas were able to check into the net to test their emergency comms.
Starting with the 2130 net on March 27th, the WICEN HF nets were ported to Echolink on a one-way basis to make the information available internationally.
Extensive use of communications media other than radio was utilised by WICEN during the activation. WICEN's callout system uses mobile phone SMSs to broadcast urgent messages to members. Most operator deployments were arranged by mobile or PSTN phone, with the details being confirmed by Internet email.
Some statistics have been gathered regarding our bushfire activation:-
Activation Period: Monday February 9 to Monday March 9, 28 Days.
Total Operators Deployed: 52 (includes field operators, admin and HF NCS)
WICEN (Vic.) Inc. Members Deployed: 36
Non WICEN (Vic.) Inc Operators Deployed: 16
Interstate Operators Deployed: 4 (NSW – 2, ACT -2)
Days of Service: 246
HF Net sessions: 53
HF Net Control Operators: 3
Stations checking in to the HF nets: 80 (VK3 – 67, VK2 – 5, VK4 – 1, VK5 – 4, VK7 – 3)
Total HF net check-ins: 617
In recognition of WICEN's service during the Black Saturday fires, the Wireless Institute of Australia presented Peter Weeks, VK3YZP (WICEN Commander in Alexandra) and Mark A. Dods, VK3XMU (Administration) with President's Commendations.